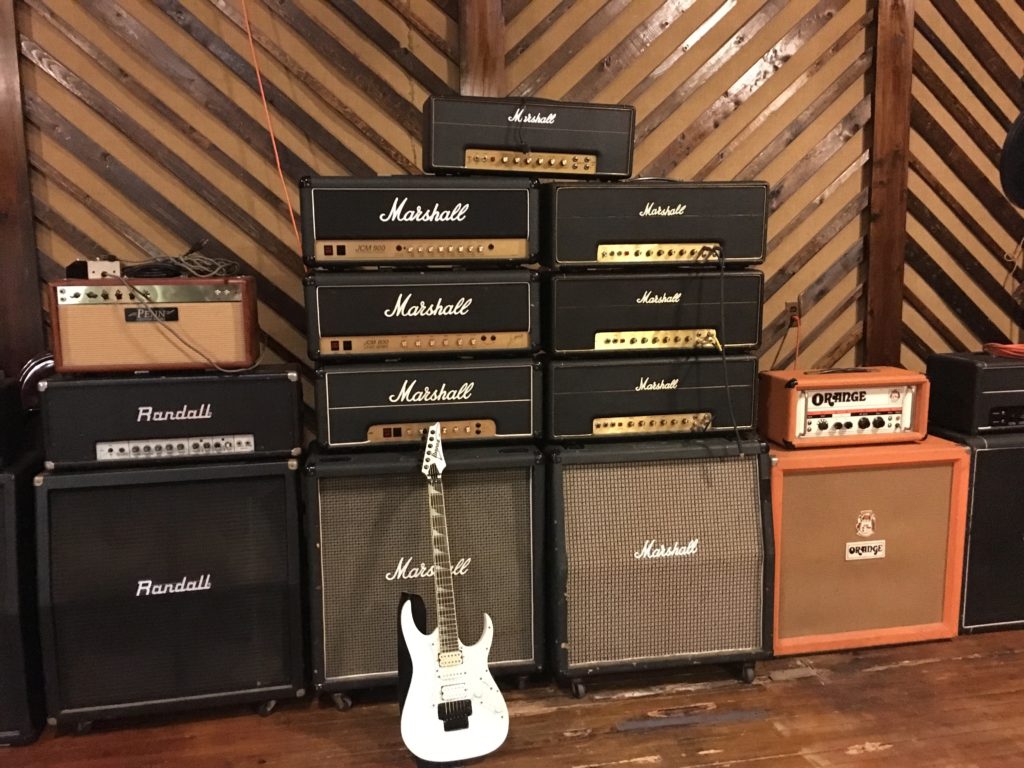 Somewhere on the beaches of the Jersey Shore with high tides and good vibes is a musician writing his next song while watching the waves crash into the sand…..
So I'm in the recording studio in late August. It's a hot afternoon and the usual crowds of people line the boardwalk and beaches to take advantage of the ocean water and cool breeze coming from the waves. We're tracking one of my Blues-Rock songs that I've just written for my new album. Shorefire Recording Studios is located just blocks from the Atlantic Ocean in Long Branch, New Jersey. Some of the many famous bands that have recorded at Shorefire are Bruce Springsteen, Blondie, Skid Row, and Bon Jovi. The Helios console "Big Brownie" ads to the magic of recording in the studio I've been working in for over 20 years. I'm alternating between a Les Paul Custom Guitar, my Ibanez RG, and my Fender Strat for some lead work and testing some classic Marshall, Orange, Bogner, and Randall amps to record with. So how did I get here?
Perseverance has been a constant character trait throughout my life. When I didn't get signed to a record deal, I raised money myself to do my first recording in the studio which turned out to be Makin' Waves, an all instrumental album. I then continued playing music, writing, recording, and teaching a full student base each week playing gigs, working as a sideman for other bands as well as my own, and promoting my own music. At one time I taught over 55 private students each week, traveling to their homes to give guitar, bass, and piano lessons.
I've been teaching since the age of 16. I was very fortunate to grow up in a supportive musical family.  Since I didn't have my license to drive, My father would drive me to my student's homes. I loved meeting the family for the first time, including the 4 legged pets, while sitting down for the first lesson with students of all ages from 4-84 years old. I enjoy the challenge to learn about my students lives and the best ways to guide them toward reaching their goals. Some of my special experiences are having parents and family members take part in the musical process for recitals, talents shows, and school play preparation.  On a grander scale, preparing for a big audition for the T.V. show "The Voice", or for a college music audition. Also special are the smells of a well cooked supper while teaching and sometimes being invited for some "chow". Some other memories are adjusting lessons for sports and school activities or searching and finding that special song or fun book that catapults the students progress and enjoyment of music.
Some of my most special moments are a call from a former student to thank me for helping them along their journey of music and life or seeing a post or article about one of my former students who got signed to a major record deal thanking me for making the difference in their career. In my experience, teaching  has been taking a personal interest in each and every student and seeing things through their eyes while helping them achieve their hopes and dreams. When my students make a discovery from something I inspired them with or to do, it's a victory for me.
What inspires you to teach or what has a teacher inspired you to achieve? I'd love to hear your thoughts in the comments section below.