Get a Copy of Anthony Rufo's Album, "Passionate Presence", for as Little as $1 – For 72 Hours Only!
…Because as Mark Druery from Indie Shark once said, "In his new album, "Passionate Presence," guitarist and songwriter Anthony Rufo delivers a supremely guitar-driven combination of rock, pop, blues, and jazz tracks inside of a streamlined setlist fit for any season."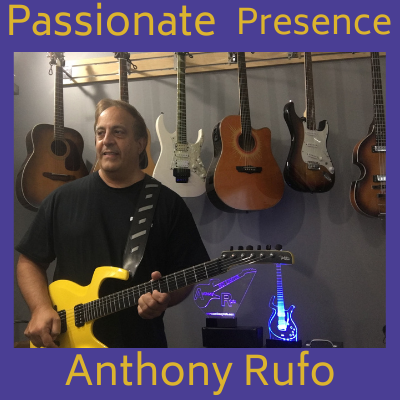 As one interviewer put it from Guitar Nine Records, Anthony Rufo "goes for the heart and soul of guitar expression with funky rhythms, exotically scaled leads, and whammy enriched, two-handed tapping legato playing. In short, If you are a fan of Eric Clapton, Stevie Ray Vaughan, Jimi Hendrix, Joe Satriani, and Blues/Rock guitar-driven music Anthony Rufo is a must have for your collection. "Rufo's new record, a thirteen-song anthology piece that crosses as many genres as it can without getting too scattered, is as guitar-powered as they come and is one of the few studio albums I've listened to that has something to suit most everyone's needs"-Garth Thomas of Hollywood Digest.
But here's where I think things get pretty cool!
I know first hand, that not everyone has the funds to buy new music. And I really hate the idea that someone who likes my music might miss out on my songs just because of a shortage of funds. So I've decided to offer my album at WHATEVER PRICE YOU THINK IS FAIR!
Don't have much money but want the album, donate as little as $1! Think it's worth the normal retail price of an album, feel free to pay more. I really just want you to have the music that I've worked so hard to create, and I want you to have it at any price you can handle. I appreciate your interest and support, regardless of whatever price you feel is fair.
However, I can't afford to offer my album on a donation bases for long, so this special pay-what-you-want offer will only be available for 72 hours.
So click the DONATE button below, type in an amount you feel is fair, and get instant access to Anthony Rufo's latest album, "Passionate Presence."
You will receive a digital download of "Passionate Presence" via email, immediately after placing your order.
Thank you so much and enjoy the album!